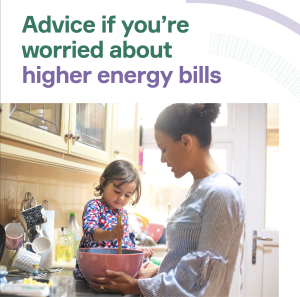 Advice if you're worried about higher energy bills
This guide has been developed by Smart Energy GB, the government-backed not-for-profit helping everyone in Britain to understand the importance of smart meters, with support from National Energy Action, and Energy Action Scotland – national charities helping people to stay warm and healthy in their homes.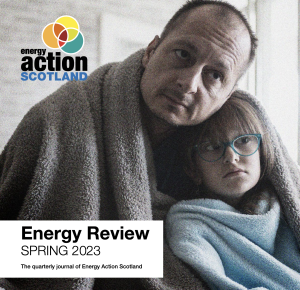 We seem to be inching towards wider recognition
and hopefully acceptance that fundamental change
is needed in the supply of domestic energy.
Governments, in responding to the targets they have
set, appear to have a new level of resolve to improve
the energy efficiency of our homes and in the expansion
of low carbon heating solutions.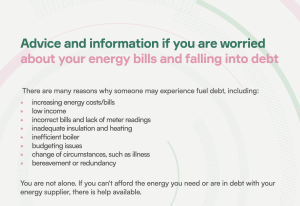 Advice and information if you are worried about your energy bills and falling into debt There are many reasons why someone may experience fuel debt, including:
increasing energy costs/bills
low income
incorrect bills and lack of meter readings
inadequate insulation and heating
inefficient boiler
budgeting issues
change of circumstances, such as illness
bereavement or redundancy
You are not alone. If you can't afford the energy, you need or are in debt with your energy supplier, there is help available.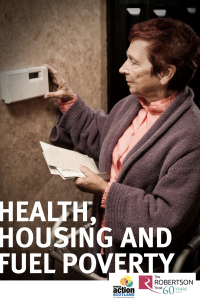 Fuel poverty is a widespread issue in Scotland with 613,000 households estimated to be in fuel poverty while 311,000 households are estimated to be in extreme fuel poverty (Scottish Housing Condition Survey, 2020).
Scottish Government estimates (February 2022) indicated that, as a direct result of rapidly rising energy prices, that it is now estimated that almost 900,000 households are in fuel poverty, of which almost 600,000 are in extreme fuel poverty.
Fuel poverty is not experienced only in the most deprived parts of Scotland but is also common in rural areas, amongst older people, single occupant households, and those using electricity as their primary source of heating fuel (Scottish Housing Condition Survey, 2020).
Fuel poverty is prevalent in many socio economic groups in Scotland and rates remain stubbornly high.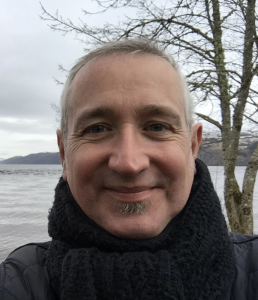 Dr Fraser Stewart, Independent Consultant
This discussion paper considers the under-occupancy of homes as a poorly understood concept that may hold great potential for helping inform our understanding of how fuel poverty is experienced and can be tackled in Scotland. Under the Scottish definition of fuel poverty under-occupancy occurs when a dwelling exceeds the bedroom standard of its occupants by two or more rooms. However official estimates of fuel poverty assume that all under-occupied rooms are heated to the same standards as the main bedroom.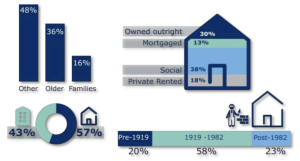 Dr Fraser Stewart, Independent Consultant
This paper for Energy Action Scotland examines the potential implications of Scotland's climate change and net zero ambitions for those households living in or at risk of falling into fuel poverty. The issues explored are intended to contribute to wider discussions about the nature and shape of Scotland's transition to net zero.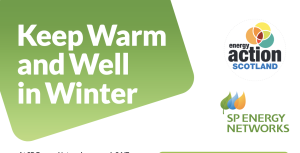 KEEP WARM and WELL in WINTER – new leaflet
The winter is a difficult time for Keeping Warm and Well. Temperatures are low and often take a plunge in deepest points. It becomes even harder to heat and power homes.
It is important that people know how to access support. Energy Action Scotland has worked with SP Energy Networks (who provide the electric infrastructure in central and lowland Scotland to over 3.5million homes and businesses) to produce information to support local advisors and householders.
This includes information on the Priority Services Register which ensures that support can be prioritised to those vulnerable households in the event of a disruption to power supplies, to information that will help people with their health and wellbeing. There are low cost and no cost tips to keep homes warm and energy bills affordable.
These are free for you to use, upload to websites, print and distribute to households.  Copies have been sent to all of our member organisations and our other contacts.  Please feel free to share this with your own wider network.
Everyone has the right to live in a warm dry home, able to afford to power all of life's essential equipment to wash, cook and clean.
EAS Annual Review 2020-2021 (November 2021)
Maximising the smart meter rollout for prepayment customers
ONE POT PRESSURE COOKER RECIPES
WGS Foundation Report 2019
Key Issues for Parties Fuel Poverty in the 2021 Scottish Parliament Elections
EAS Annual Report 2020
EAS's Annual Accounts 1 April 2019 - 31 March 2020
EAS Annual Review 2018 - 2019
EAS Annual Review 2018
Research into support and advice services for households in Scotland reliant on electric heating (January 2018)
Special Report on Fuel Poverty (June 2017)
Scottish Local Government Election 2017 - Special Report on Fuel Poverty (May 2017)
Seminar Report (February 2017)
Poverty Schemes in Scotland (January 2017)
Scottish Parliament Election 2016 - Special Report on Fuel Poverty
Reaching the Target to End Fuel Poverty by 2016 (2016)
The Relationship Between Fuel Poverty and Health (2012)
The Future without Fuel Poverty [May 2010]
The Cost of Affordable Warmth [January 2009]
Energising Fuel Direct [June 2006]
Self Disconnection Survey Report [October 2004]